INTRODUCING
---
The EY Health
Market Navigator
The EY Health Market Navigator is a powerful and flexible proprietary health analytics platform.
The tool helps answer such questions as:
Which new geographies should I enter?
How does my network footprint compare to my competitors?
Where do mergers and alliances offer opportunities for improved service and value?
Am I making the most of the reimbursement landscape in my markets?
The EY Health Market Navigator is a broad analytical capability that supports acceleration of insights into health care supply and demand for any market in the USA.
The tool provides valuable insight into demographics, geography, service area, competition, volume and demand.
Information can be customized, cross-referenced and benchmarked against client data sets to assess competitive positioning, trending, revenue opportunities, risks and projections.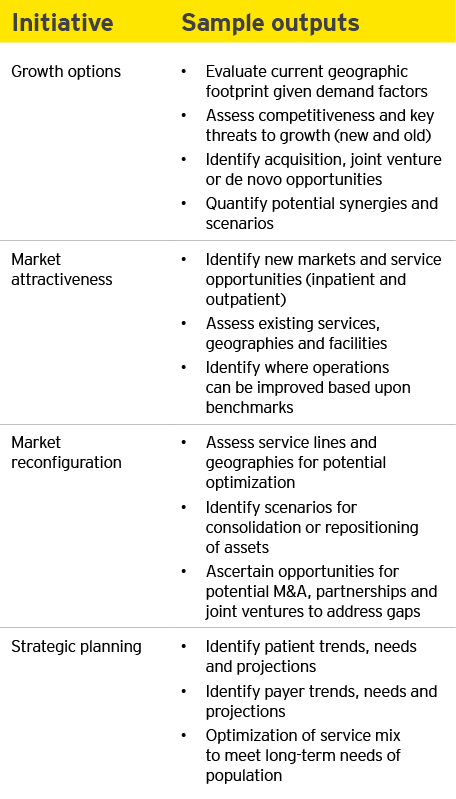 CLEAR INSIGHTS FOR CONFIDENT DECISIONS
---
Data analytics plays a significant role in developing business strategies, identifying opportunities and
assessing risks. The EY Health Market Navigator provides companies with:
Deep and precise real-time analysis and insight into health market dynamics to assess competitive positioning, trending, revenue opportunities, risks, and projections
Enhanced ability to make informed business decisions when embarking on critical strategic initiatives or forming enterprise level strategies around any given market or service
Evaluating demographic and competitive environment; review of hundreds of demographic factors to examine the key drivers of the market today vs. where will it be in five years
Health systems are no longer in the care delivery business. They are in the care management business, driving quality, cost and patient experience – making money, or not, taking care of patient populations end to end. They are seeking new partners. Sometimes other health systems, often players from outside of the provider market – insurers, retailers and device manufacturers – all to win in the new game of care management.
---
Organizations that could benefit
Middle-market providers looking for growth
Larger multi-site regional or local health systems

looking for market expansion, repositioning or a re-evaluation of their service offerings at any given location
Payers interested

in better understanding the local patient and provider base, networks' overlap, synergy and revenue opportunities
Private equity firms examining

the health care industry and determining where to invest or add more services
Any health organization facing new market entrants

, experiencing cost pressures, contemplating a cross-sector transaction or looking to evaluate their facility configurations
Sample use scenarios
Click on the images below to read more.